Eat at the Harp at Old Radnor
Our food service times are as follows:
Wednesday to Saturday evenings from 6pm to 9pm (dinner menu – see below)
Sunday 12 noon to 3pm (Sunday lunch 2 course set menu £25 (child's portions £13.50) – see below
PLEASE NOTE  – Like many hospitality businesses we are occasionally still short staffed so it is essential to book your table in advance, we may be unable to serve you if you arrive without a booking.  And please, please let us know if you wish to cancel the booking, a no show is disaster for us and we can often re-book a table even at short notice.  Thank you!
Menus
Please let us know of any specific dietary requirements, allergies and intolerances when you book your table.  Dishes marked + can be made gluten free on request and * dairy free on request, sometimes this means substituting or omitting items. 
Our Christmas party menu will be running from Wednesday 29th November up until 23rd December!

Current dinner menu – served evenings only 
WHILE YOU WAIT
Sweet balsamic shallots £3.50 *+
Sweet piquante peppers stuffed with cream cheese £4 +
Lemon and herb marinated Gordal olives £4 *+
Cider and thyme braised chorizo £4 *+
Selection of locally baked breads, butter, extra virgin olive oil & balsamic reduction £5 *
TO START
Soup (vegan on request) £6.25 *+
Parsnip, cider & sage soup, warm bread & butter
Mushroom £8 +
Garlic sautéed mushrooms, Perl Las & spinach veloute, toasted sourdough
Ham £8.25 *+
Ham hock rilette, piccalilli, pistachio, focaccia
Smoked haddock £8.25 *
Smoked haddock & spring onion croquettes, chive mayonnaise, watercress salad
TO FOLLOW
Venison £18 *+
Port braised venison casserole with wild mushroom & smoked bacon, mashed potato, braised red cabbage, parsnip crisps

Salmon £19 +
Pan roasted fillet of salmon, chive mashed potato, creamy sun-dried tomato & spinach sauce, tenderstem broccoli

Wellington £15.50 *
Chestnut & roasted root vegetable wellington, roasted new potatoes, red onions & sprouts, red wine gravy

Beetroot £15 +
Roasted beetroot, rocket & goats cheese risotto, toasted walnuts, parmesan crisp

Steak & Chips £24.50 *+
Pan-fried 8oz local sirloin steak, hand cut chips, roasted tomato, crispy battered onion rings & flat mushroom
(add green peppercorn or blue cheese sauce £3.50)

Fish & Chips £12.00/£15.00 *+
Crispy battered fillet of fresh cod, hand cut chips, tartare sauce & mushy peas

Ham £13.00 *+
Home baked ham, fried free range eggs, hand cut chips & peas
TO FINISH
Gingerbread (vegan on request) £8 *
Warm sticky toffee gingerbread, toffee sauce, clotted cream ice cream
Limoncello £7.50
Limoncello tiramisu, toasted almonds
Parfait £8 +
Iced Christmas pudding parfait, cinnamon Chantilly cream, mulled winter berries, meringue
Chocolate £8.25
Dark chocolate delice, boozy oranges, vanilla bean ice cream
Ice Cream
£3 (1 scoop) £5.50 (2 scoops) £7.50 (3 scoops)
We have a selection of delicious ice creams and sorbet, please ask for flavours available (including vegan/dairy free alternatives) +*
Cheese £9.25 +
Selection of four cheeses, crackers, caramelised red onion chutney & balsamic shallots. (Please note many of our cheeses are unpasteurized.)
Glass of Port to accompany your cheese board £3.50 (75ml)
Sunday lunch menu
2 courses £25
(vegetarian option £22.50, child's portion £13.50)
(please note this is a sample only as the menu changes each week, however roast beef is always available)
Main courses
Roast sirloin of locally produced beef, Yorkshire pudding, roast potatoes, gravy, horseradish sauce (can be gluten free or dairy free on request)  or
Thyme roasted breast of free range chicken, sage and onion stuffing, pigs in blankets, roast potatoes, gravy, (can be dairy free on request) or
Butternut squash, garlic field mushroom and cashew nut roast, roast potatoes, caramelised red onion gravy (vegan, can be gluten free or dairy free on request)
All served with a selection of seasonal vegetables and cauliflower cheese or cheesy leeks, or
Roast fillet of smoked cod, mashed potatoes, kale, parsley sauce
Desserts
Apple and cinnamon crumble with custard or
Chocolate orange tiramisu cheesecake or
Selection of award-winning Herefordshire ice creams and sorbets
Selection of local and Welsh cheeses, crackers, red onion chutney, balsamic shallots
More about our food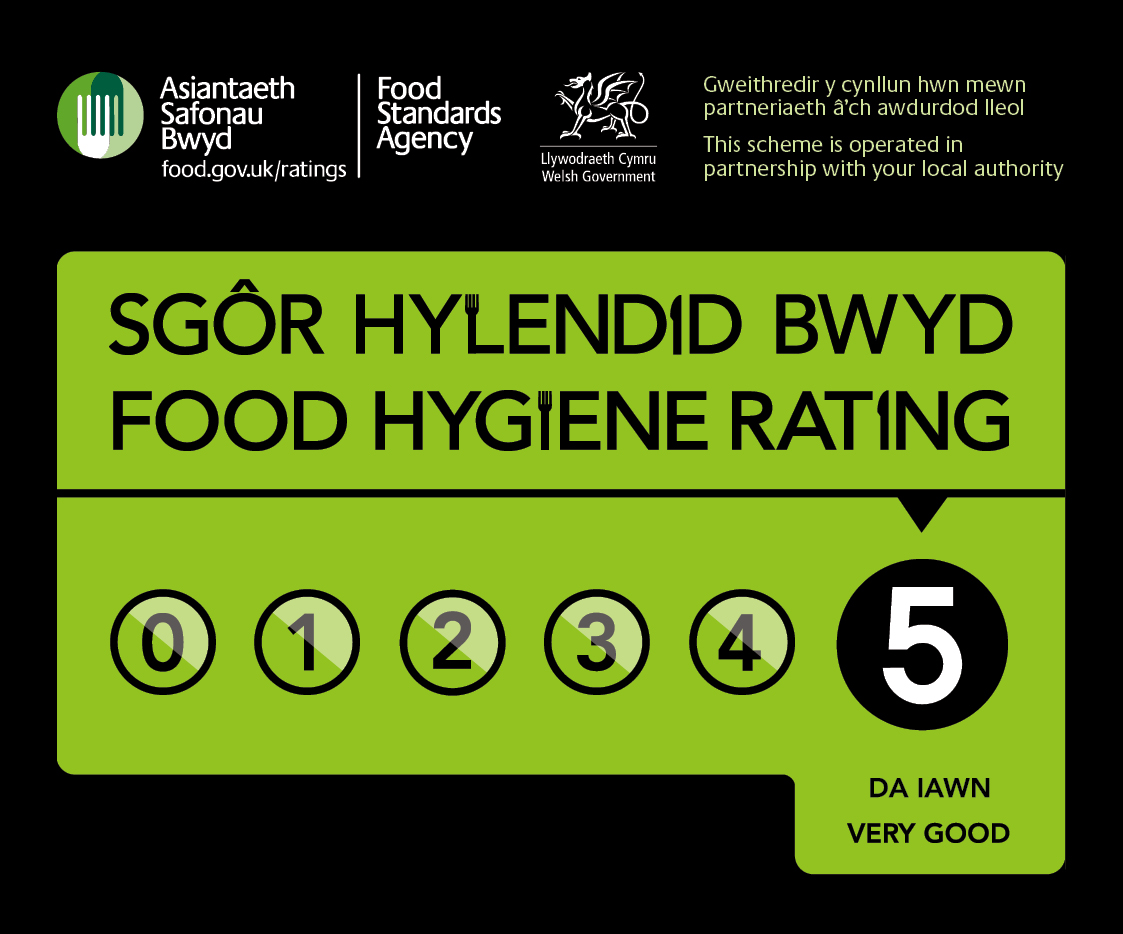 Our philosophy with the food we serve is simple – good, fresh ingredients, locally sourced if possible, freshly cooked to order, presented and served with care.  Because our food is freshly prepared, our menu is not extensive but we offer simple pub food classics such as ham and eggs or steak and chips alongside our chef's more imaginative modern dishes and of course a traditional roast lunch on Sundays.
Our menu changes every six weeks or so. Please note that dishes may be subject to slight variation depending on the availability of ingredients so please call us first if you wish to ensure that a particular dish will be available on your visit.
We are always happy to discuss requests from customers for particular dishes, set menus or buffet menus for special occasions (when larger gatherings are permitted).
 We do not offer a separate menu for children but can offer small portions of some of our dishes, or divide adult portions between children.
Vegetarian / Dietary Requirements
We are very aware of food allergies and intolerances and our menu indicates which dishes can be made gluten free or dairy free although you must make it clear to the person taking your order if this is required. We try to make it clear if nuts are an ingredient in a dish but again please make it clear to your server if you have a nut allergy. For those with severe allergies please note that we do use nuts in our kitchen so none of our food is prepared in a nut-free environment.
We try to offer an interesting choice of vegetarian dishes and whilst these would not necessarily always also be vegan, we are happy to accommodate vegan and other specific dietary requirements with some advance notice.