Eat at the Harp at Old Radnor
Please read the following paragraphs before booking a table with us.  We are doing our best to keep everyone safe in these difficult times and we trust and expect that our customers will do the same and follow the Welsh coronavirus regulations.  We reserve the right to refuse service to anyone whether or not they have booked a table if it comes to our notice that they are acting in breach of the regulations.  And it surely goes without saying by now that you should not come if you have any symptoms of covid-19, please cancel your booking and stay at home and get a test instead!
It is essential to book your table in advance.  We are still operating at reduced capacity to enable social distancing and are unlikely to have space for anyone without a booking.
We are now permitted to take bookings for up to six people from different households indoors and outdoors.   Children under age 11 do not count towards the number of people allowed, nor does a carer for someone in the group.
Every adult customer will be required to provide their name and contact details for the NHS Wales Test, Trace, Protect service and to note their arrival and departure time on our forms.  We may also have to ask you to verify your identity so please bring with you your driving licence, bank card or similar.  Records will be kept securely for 21 days and then destroyed and the information will not, of course, be used for any other purpose whatsoever.
We are staggering booking times to limit the overall number of people in the pub at any one time so please arrive on time for your booking.  If you are early we may have to ask you to wait outside, if you are late we may not be able to serve you at all.
When you are here, service is strictly at your table only, please do not come to the bar and do not mingle indoors with people from other tables.  Face coverings are required to be worn at all times except when seated at your table to eat and/or drink.  We may sometimes open windows or doors to aid ventilation so please dress warmly or bring a warm wrap or jacket with you.  Please have regard to the notices we have on display with regard to social distancing, use of hand sanitiser, use of washroom facilities etc.
Payment by card is preferred.
Our food service times are as follows (contactless take away service is also available at these times but must be ordered and paid for in advance):
Wednesday to Saturday evenings from 6pm to 9pm (dinner menu – see below)
Saturday 12 noon to 2.30pm (sandwich and light lunch menu – see below)
Sunday 12 noon to 3pm (Sunday lunch 2 course set menu £20 (child's portions £12) – see below and please note that a deposit payment of £30 is now required for tables of 4 or more due to too many people not turning up for their booking since we reopened)
Menus
Please let us know of any specific dietary requirements, allergies and intolerances when you book your table.  Dishes marked + can be made gluten free on request and * dairy free on request. 
Dinner menu – served evenings only 
WHILE YOU WAIT
Lemon and herb marinated gordal olives £4 +*
Home braised cider and thyme chorizo £3.50 
Sweet balsamic shallots £3.50 +*
Selection of  Alex Gooch breads, butter, olive oil and balsamic vinegar £4 *
TO START
Soup (V) £5.50
Chef's soup of the day, warm Alex Gooch bread  and butter +*
Smoked Duck £7
Slices of smoked duck breast, orange and pomegranate salad, candied walnuts +*
Prawns £7.50
Tempura battered tiger prawns, lime and chilli mayonnaise, dressed leaves *
Blue Cheese (V) £6.75
Dolcelatte blue cheese cheesecake, walnut sable crumb, red grape jam
TO FOLLOW
Chicken £16.50
Panroasted supreme of chicken, leek and smoked bacon risotto, Parmesan and bacon crisp +
Sea Bream £17
Fillet of gilthead bream, sunblushed tomato, caper, olive and herb crumb, sauteed potatoes, wilted spinach, herb butter 
Pie (V) (Vegan on request) £12.50
Mediterranean vegetable and brie shortcrust pie, buttered new potatoes, curly kale *
Pork £13
Pork and black pudding burger, sauteed onions, English mustard mayonnaise, gherkins, sweet potato fries*
Steak and Chips £17 (8oz) or £20 (10oz)
Panfried locally produced sirloin steak, hand cut chips, roasted vine cherry tomatoes, field
mushroom +*
Add peppercorn sauce or blue cheese sauce for £3 or garlic butter for £2 
Fish & Chips £14
Freshly battered Cornish cod, hand cut chips, mushy peas, tartare sauce +*
Ham £11.50
Home baked locally produced ham, fried free range eggs, garden peas, hand cut chips +*
TO FINISH
Cherry £7
Chocolate and cherry pave, clotted cream ice cream, cherry sauce
Parfait £6.50
Iced raspberry parfait, white and dark chocolate sauce, chocolate shard +
Strawberries £6.75
Locally grown strawberry and creme patissiere tart, meadowsweet ice cream
Ice Cream £5.50 (3 scoops)
We have a selection of delicious ice creams and sorbet, please ask for flavours available +*
Cheese £8.50
Four selected Welsh or local cheeses served with biscuits and chutney.  Please note cheese may be unpasteurised – please let us know if you prefer to avoid this
Saturday lunch menu
Sandwiches
Freshly baked ciabatta rolls with a choice of fillings, served with root vegetable crisps and dressed baby leaves:
Home baked ham £6.50
Mature Welsh cheddar £6
Coronation chicken £7
Local pork sausages, tomato and ginger chutney £7
Main courses
Freshly battered Cornish cod, handcut chips, mushy peas, tartare sauce £14 +*
Chicken, ham and leek lasagne, mixed salad £11.50
Cajun spiced sweet potato and couscous burger, brioche bun, lemon mayonnaise, hand cut chips, dressed leaves (v) £9.50 +*
Home baked locally produced ham, fried free range eggs, garden peas, hand cut chips £11.50 +*
Light bites, snacks and sides
Chef's soup of the day, warm bread and butter (v) £6 +
Breaded whitebait, sweet chilli mayonnaise, dressed leaves £6.50 +*
Hand cut chips £3 +
Garlic ciabatta £3
Cheese and bacon chips (cheddar cheese sauce and smoked bacon bits) £5 +
Lemon and herb marinated Gordal olives £4 +*
Home braised cider and thyme chorizo £3.50
                                                                                 Sweet balsamic shallots £3 +*
Selection of Alex Gooch breads, butter, olive oil and balsamic vinegar £4 *
Sunday lunch menu
2 courses £20 (child's portion £12)
(please note this is a sample only as the menu changes each week, however roast beef is always available)
£30 deposit required for tables of 4 or more
Main courses
Roast sirloin of locally produced beef, Yorkshire pudding, roast potatoes, gravy, horseradish sauce (can be gluten free or dairy free on request)  or
Thyme roasted breast of free range chicken, sage and onion stuffing, pigs in blankets, roast potatoes, gravy, (can be dairy free on request) or
Roast fillet of smoked cod, mashed potatoes, kale, parsley sauce, or
Butternut squash, garlic field mushroom and cashew nut roast, roast potatoes, caramelised red onion gravy (vegan, can be gluten free or dairy free on request)
All served with roasted vegetables, sweet potato mash, peas and cauliflower cheese
Desserts
Apple and cinnamon crumble with custard or
Chocolate orange tiramisu cheesecake or
Selection of local and Welsh cheeses, crackers, red onion chutney, balsamic shallots
More about our food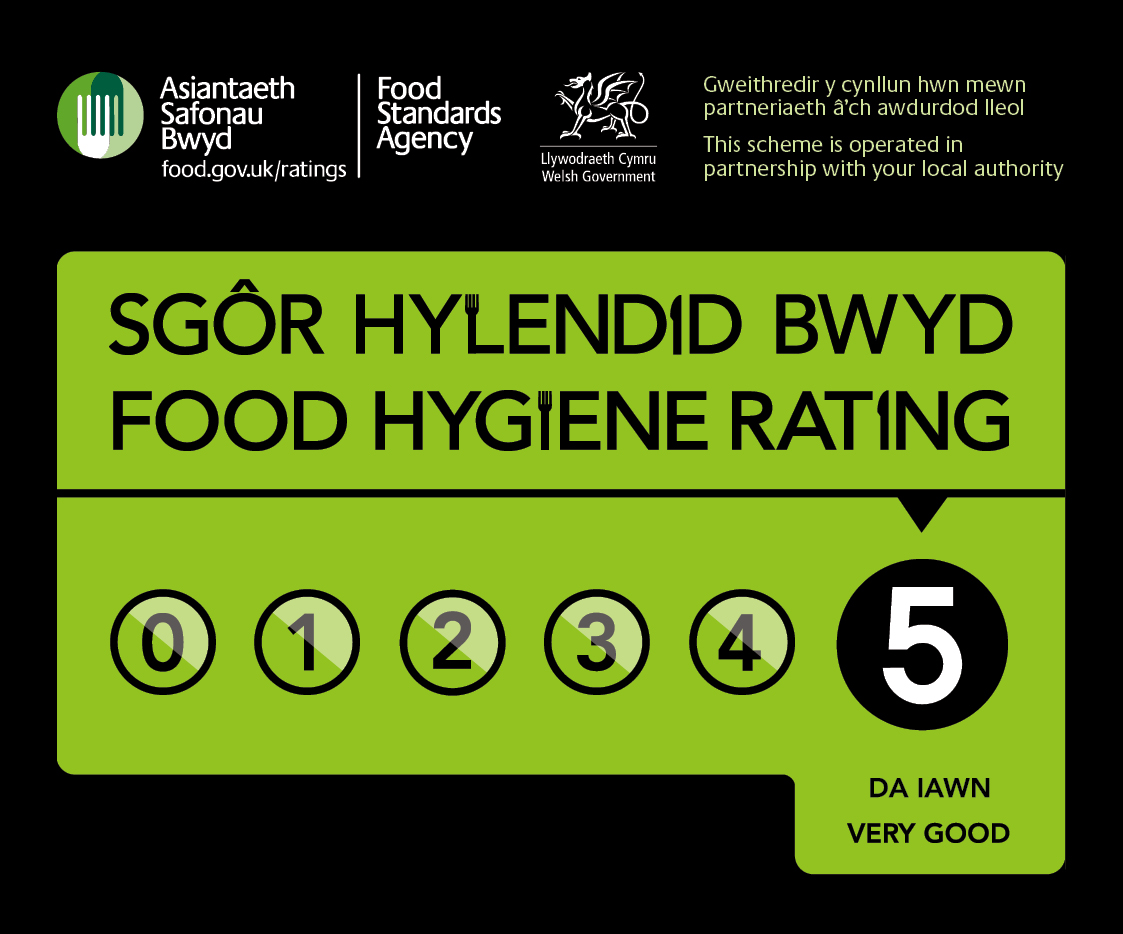 Our philosophy with the food we serve is simple – good, fresh ingredients, locally sourced if possible, freshly cooked to order, presented and served with care.  Because our food is freshly prepared, our menu is not extensive but we offer simple pub food classics such as ham and eggs or steak and chips alongside our chef's more imaginative modern dishes and of course a traditional roast lunch on Sundays.
Our menu changes every six weeks or so. Please note that dishes may be subject to slight variation depending on the availability of ingredients so please call us first if you wish to ensure that a particular dish will be available on your visit.
We are always happy to discuss requests from customers for particular dishes, set menus or buffet menus for special occasions (when larger gatherings are permitted).
 We do not offer a separate menu for children but can offer small portions of some of our dishes, or divide adult portions between children.
Vegetarian / Dietary Requirements
We are very aware of food allergies and intolerances and our menu indicates which dishes can be made gluten free or dairy free although you must make it clear to the person taking your order if this is required. We try to make it clear if nuts are an ingredient in a dish but again please make it clear to your server if you have a nut allergy. For those with severe allergies please note that we do use nuts in our kitchen so none of our food is prepared in a nut-free environment.
We try to offer an interesting choice of vegetarian dishes and whilst these would not necessarily always also be vegan, we are happy to accommodate vegan and other specific dietary requirements with some advance notice.